After 16 years of market-leading innovation, Gü unveils its biggest NPD pipeline yet…
This Spring, Gü will unveil an eight-strong line-up of new products including a range of dessert-inspired luxury Ice Creams, fabulously indulgent Free From desserts and an on-trend Limited Edition.
The major move is part of a wider refresh that champions the brand's roots as the original innovators via disruptively tongue-in-cheek, 'Seriously Gü' positioning; setting the benchmark for seriously good puds.
Gü DESSERT-INSPIRED LUXURY ICE CREAM  
The biggest launch in the line-up is one of the most exciting innovations in the brand's history: Gü Ice Cream. Three flavours that pack all the sophistication of a proper dessert will land in late February, bringing the dessert taste and expertise consumers have come to love from Gü to the Ice Cream category.
Each flavour features indulgent swirls of rich creamy ice cream, luxuriously decadent sorbet, layers of sumptuous sauces and delicious inclusions:
Gü-Zillionaires'® Cheesecake Ice Cream: Gü's signature creamy, sweet yet salty caramel complete with crunchy, burnt caramel shards – with thick cheesecake ice cream and Santa Domingo Chocolate sorbet for a lasting rich and distinctive flavour.
Gü Zesty Spanish Lemon Cheesecake Ice Cream: Fruity, clean, fresh and zingy Spanish lemons; all the zest of natural, real ingredients and a smooth, thick, sharp and juicy lemon curd, cheesecake ice cream and lemon sorbet.
Gü Chocolate Torte Ice Cream: Santa Domingo Chocolate ice cream, sorbet and sauce with a dark cocoa biscuit crumb for added taste, texture and bite.
Sam Vince, Senior Innovation Manager at Gü, comments: "This is the one consumers have been waiting for: mouth-watering Gü Ice Cream designed by our Head Chef, Fred Ponnavoy, to deliver the quality cues of the brand in a new format everyone loves. The range features ingredients carefully selected to deliver layers of taste, flavour and texture that really set them apart from the competition.
"At testing, the range delivered exceptional taste credentials versus competitor benchmarks. Metrics included appearance, colour, flavour, natural taste, aroma, texture and inclusions and we are confident our Ice Creams will make a strong impact in what is a fresh, new and exciting category for Gü."
Gü FABULOUSLY FREE FROM
The big innovation reveal will also see the Free From category given the Gü treatment with the launch of Gü Fabulously Free From. These four flavour-packed puds will bring all the premium and indulgent taste credentials of Gü to the 43% of Brits claim to regularly shop the Free From fixture.
Gü Spanish Lemon Cheesecakes (Gluten Free, Vegan): Layers of zesty lemon coconut cream and a curd-style lemon sauce on a crumbly gluten-free biscuit base.
Gü Strawberry & Rhubarb Cheesecakes (Gluten Free, Vegan): Sweet and tangy rhubarb and strawberry compote on an Indonesian coconut cream layer, with a gluten-free crumbly biscuit base.
Gü Chocolate & Vanilla Cheesecakes (Gluten Free, Vegan): Layers of silky chocolate coconut ganache and Indonesian coconut cream on a crumbly gluten-free biscuit base.
Gü Hot Chocolate Molten Middles (Gluten Free, Vegetarian): Gluten-free spongy chocolate crust with an oozy molten chocolate middle, made with 70% cocoa.
Melina Lyra, Gü Senior Innovation Manager, comments: "With our launch of Fabulously Free From we want to prove that Free From desserts don't have to be free from taste. After a labour of love in the Gü Kitchen, we're bringing fabulously full-on flavour and much-needed choice to the Free From category, with Free From takes on four of our famous puds.
"Whether consumers are buying Free From for health reasons or as part of a vegan, vegetarian or flexitarian lifestyle choice, our new range delivers against the unmet category need for interesting flavours and products that truly deliver on taste."
NEW Gü LIMITED EDITIONS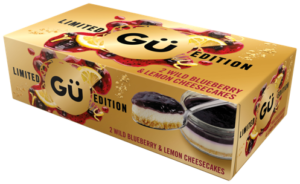 Completing the line-up is a new Gü Wild Blueberry & Lemon Limited Edition Cheesecake. Sweet meets sharp in this latest build on a brand tradition of celebrating on-trend, in season ingredients that deliver everything consumers say they love about Gü. The dessert features a beautifully balanced combination of juicy blueberry compote, with wild blueberry fruit pieces, zesty Spanish lemon cheesecake and Gü's signature crumbly biscuit base.
NEW BRAND POSITIONING: SERIOUSLY Gü
All innovation will launch under a new multi-channel, uniquely-Gü brand positioning. In a return to the brand's roots, 'Seriously Gü' inspires consumers who have no time for disappointing desserts and reasserts the authority of the brand as the only restaurant-quality pud of choice for "me time" and "we time".
Hannah Kehoe, Marketing Manager at Gü, comments: "'Seriously Gü' and our bold new creative is unapologetically indulgent by design and brings our famous product rightfully back to centre stage, with the tongue-in-cheek assertion that our puds are so good they should come with a warning!
"The brand is recognised for quality, trust and premium indulgence and we're here to reassert the standard that consumers expect from Desserts, Spreads and now Ice Cream and Free From too."
'Seriously Gü' will roll-out across the marketing mix this Spring, including digital outdoor, paid social, digital, PR and influencer campaigns, and at experiential events including Taste of London.